On Friday, October 25, 2019, Concordia University hosted the annual CREATE TEDGIEER conference at the 33rd Eastern Canada Water Quality Conference (CAWQ). Twelve students from the program had the opportunity to prove all the dynamism of the research done in water treatment.

Here you have access to the results presented.
M. Fakhari, Assessment of groundwater contribution to surface water quantity, quality and temperature in rivers of northern Quebec
To download, click here.

Z. Liu, S. Sauvé, B. Barbeau, Biological ion exchange as an alternative to biological activated carbon for drinking water treatment
Bharti, P. Drogui, R.D. Tyagi, Effect of pH variation on landfill leachate treatment using crude microbial exopolysaccharide
To download, click here.
J. Cerutti, I. Abi-zeid, L. Lamontagne, R. Lavoie, M. Rodriguez, Facing water quality issues with land-use planning actions: acase-based reasoning (CBR) application for source water protection
To download, click here.
C.-R. Garcia, S. Guilherme, M. Rodriguez, Field challenges for monitoring drinking water from source to tap in Nunavik
To download, click here.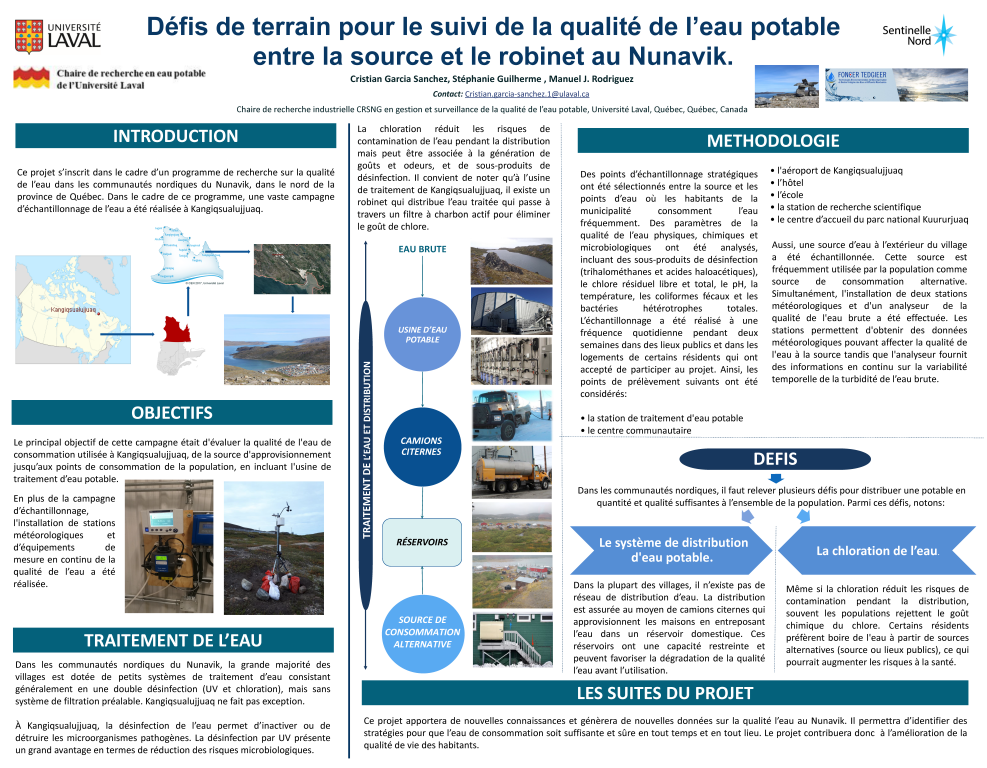 C. Guérette, P. Lemoine, J. Vermette, P. Segura,Hospital wastewater treatment by hydrothermal oxidation: Fate of pharmaceuticals.
To download, click here
D. Gerrior, Life cycle assessment of a corn ethanol refinery in comparison to a novel biorefinery.
To download, click here
R. Souidi, C. Vaneekhaute, P. A. Vanrolleghem, Nutrient recovery in water resource recovery facilities –The need for physico-chemical models.
To download, click here
J. Gao, M. Rodriguez, F. Proulx, Occurrence of haloacetaldehydes in drinking water and effects of ozonation on their variability: A full-scale study
To download, click here.
K. Alokpa, L. Lahens, F. Lafortune, H. Cabana, Preparation and application of a combined cross-linked laccase and hydrolases aggregates for TrOCs removal in a synthetic wastewater
M. Gholami Shirkoohi, M. Doghri, S. Duchesne, P. Drogui,Short-Term Water Demand Forecast Modelling Using Artificial Neural Networks and Genetic Algorithm.
To download, click here
B. Yadav, S. Yellapu, R. Tyagi, Characterisation of extracellular polymeric substances using wastewater sludge with crude glycerol from different biodiesel companies